I am linking up with
The Schroederpage
who is hosting a Who's Your Teamie linky party.
10 Teamie Questions about

Mrs. Schroeder (rhymes with gator)

!
I took this picture :)
#1 How long have you and your Teamie been teaching together?
We are going into our second year teaching together. I remember the first day I met her, she sat in on my interview and I was terrified. There were several teachers from different grade levels and they were all so sweet. I wanted Mrs. Schroeder to like me because I wanted second grade so bad, but she wasn't even looking my way! I left the interview thinking I was probably going into another grade.
But 30 minutes later I got the call and I held my breath and said a quick prayer for second grade and when my principal told me I got the job and I was going into second grade I literally danced around my kitchen and screamed very loud!
#2 What is your Teamie's best quality?
My teamie is business savvy. She thinks outside the box and has great entrepreneur skills. I keep telling her we are going to write books and all ki nds of things together. She is also very crafty, she never lets a paper leave her desk with out some cute clip art and font!
#3 Who will retire first?
Oh boy, I'm pretty sure she will. She has been teaching longer than me.
#4 What makes you two an awesome pair?
We love our job and we are excited to learn more things about teaching. We are both go-geters and we will do anything for our students. On a personal level we laugh all the time and are always up to no good! Our students know we are great friends and if you are in my classroom for more than 30 minutes you will likely see Mrs. Schroeder in my room. We could have our own reality TV show (any takers!).
#5 Do you both have any rituals that get you through the day or a hard time?
Well she introduced me to Chi Lattes which is now my new obsession. We also love to reinvent ourselves. We love teaching but we want to do even more than teach the kiddos in our classroom. We want to support new teachers, share resources with all teachers, and be our students favorite teacher ever!
#6 What is a word that describes your Teamie?
Crafty- She loves to make new things and when she has a vision she can make awesome things.
#7 Is your Teamie in the blog world? If so...what is their blog? (Don't forget to link it:) If not...will this post push them in?
My teamie is in the blog world her blog site is
http://schroederpage.blogspot.com/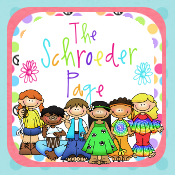 #8 What is the funniest thing that you and your Teamie had to face at school?
This year we decided to have catch a leprechaun with our classes and we had so much fun. We were trying to record him sneaking into our classroom (he does this every year). After about a 100 takes (because we were dying laughing) and three hours after school we caught him in action. He destroyed our classrooms, left his prints everywhere and even left notes to the students.
#9 Complete this sentence...I would not trade my Teamie for a $1,000 gift card at the Dollar store because...
I will just go in her classroom and take all the supplies I would have bought. I borrow everything! If you want it or need it Mrs. Schroeder has it! But honestly I wouldn't trade my teamie because we get along very well, she loves to share her ideas and she makes me a better teacher.
#10 Add a special tribute to your Teamie:)
I can't wait until we are back in our classrooms drinking Chi Lattes, eating contraband food and driving Junior crazy with our requests. This year we are going to rock it out! We have a great team and this year our little kiddos are going to have a blast with our crazy selves.
Grab the code below: